2009 Beaded Object Contest
If you've been to a Gathering, you've been treated to a display of bead pens, letter openers,
or wine stoppers decorated with ISGB members' handmade lampworked beads.
These exquisite objects were entries in a unique auction/raffle, where your purchased raffle tickets
are both a raffle entry and a vote for your favorite object.
The Beaded Object Contest, as it is being called this year, is a wonderful fund-raiser for ISGB and
also an excellent opportunity for beadmakers at every experience level to have their work on display at the Gathering.
The BeadPen Group is offering their handsome beadable objects to ISGB members at an exclusive "Contest" price
to encourage everyone to give them a try and see what amazing art results from enhancing a utilitarian object.
Raffle tickets will be on sale at the Gathering from the opening of early registration at 5pm on Wednesday
through the end of the Opening Reception on Thursday night. Tickets will be counted for the $300 first prize, $200 second prize
and $100 third prize and raffle winners drawn on Friday morning. Winners will be posted by noon on Friday.
Please check out the beadable objects we are offering for the 2009 Contest below and make your choice,
then send an email to: graphics@anet-tl.com, for ordering information.
Beadpen $4.00
Letter Opener $4.00
Fountain Pen $6.00
Wine Stopper $5.00
Utensil $5.00
Completed entries are due at The BeadPen Group, L.L.C. no later than July ___, 2009.
Items cannot be accepted at the Gathering this year.
Attn: Mark Collins
The BeadPen Group, L.L.C.
10914 Killdare Court, St. Ann, MO 63074
314-610-2717 graphics@anet-stl.com
2008 Wine Stopper Contest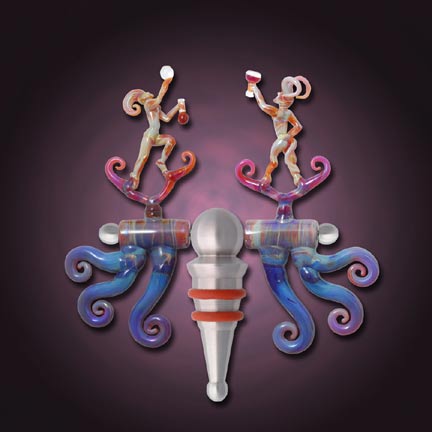 1 st Place Winner 2008 Wine Stopper Contest

Lewis Wilson

If you attended previous Gatherings held in Louisville, Kansas City and Minneapolis, you were treated to the display of bead pens and letter openers decorated with handmade lampworked beads that were then auctioned off in a Chinese auction. These were exciting events and the works created by the artists have been exquisite.

The contest is returning this year and will focus on wine stoppers. The BeadPen Group will provide wine stoppers to artists who plan to participate in the Chinese auction. In order to purchase a wine stopper for the contest, please email us with your request and we will send you instructions on how to purchase a wine stopper.

A Chinese auction is both an auction and a raffle, in which the artist's entry will be on display, and Gathering attendees will buy tickets and will use tickets to select an entry they choose to win. The more tickets an attendee uses for an entry, the better the attendee's chances are of winning that entry. Once the auction closes, each wine stopper will be awarded to the lucky attendee whose ticket is pulled from the box of tickets for that entry. All of the tickets for each entry will also be counted, and the three artists getting the highest number of tickets in their boxes will be awarded cash prizes from Mark Collins of the BeadPen Group of $300, $200, and $100. Winners will be announced at the ISGB Banquet. Winners of the cash awards do not need to be present to win.

Beginning at pre-registration on Wednesday evening through Opening Reception Thursday evening, the items will be displayed, and raffle tickets will be sold so attendees can participate in the Chinese Auction. The Chinese Auction will end at the Opening Reception.

Deadline to compete is July 12, 2008. Items will not be accepted at the Gathering this year.

Complete wine stoppers and mail to:

Fran Wincek
11737 Upper Van Allen, Felton, CA 95018
831-335-9475 west@isgb.org

To participate as a wine stopper creator, first visit http://www.beadpen.com/ to select the style of wine stopper you would like to work with. Then, send an email to the Bead Pen Group and they will reply with instructions on how to purchase your wine stopper.

Rules
Each member can purchase up to two wine stoppers at $5 each.
Each wine stopper purchased for the contest must be submitted to the ISGB auction
Each contestant can submit a maximum of two wine stoppers for the contest.
You must be a member of ISGB in order to participate in the contest.
You do not have to be a U.S. citizen to participate in the contest.
You do not have to be present to win.

You do not have to attend the Gathering to participate.

Deadline for requesting a winestopper is July 1, 2008.

Whether turning in the entry at the Gathering or mailing it in ahead of time, please include the following form:
---
Winestopper Contest Entry

Name:________________________________________________________________________

Address:______________________________________________________________________

Daytime phone:__________________________ Email:________________________________

---